Music for tiny airports at Web Audio Conference
The Web Audio Conference 2018, held in September 19-21 in Berlin was a great mix of researchers, web developers, artists and performers presenting their projects. I had the chance to provide a deep dive into music for tiny airports, explaining how to generate hours and hours of music in a handful of bytes.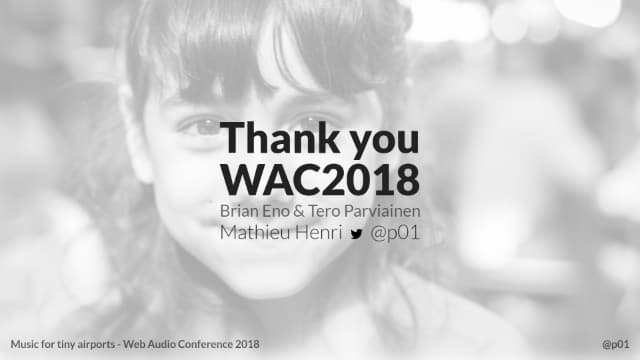 Slides and video
Here are the video recording and slides of this 15 minutes talk explaining how music for tiny airports, the homage to Brian Eno's Music for airports in 256 bytes work.
This talk was on the last slot of Day one, and purposely light after several talks digging into advanced use of the Web Audio API.
Make sure to check the other talks and performances from Web Audio Conference as it was a very interesting mix of academics, artists and professionals. It was the occasion to meet old and new friends and put faces on online friends.
Hats off to Microsoft for supporting me to give a wide range of talks, beyond the visual testing and UI work I do on the profile card.